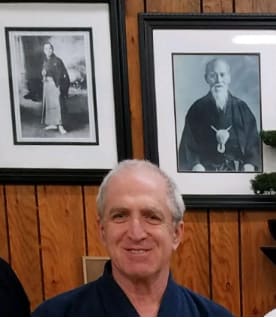 Master Vladimir Soroka
Started in Martial arts in 1968. Serious regular Training in Aiki Ju-Jutsu since 1970, in Aikido -since 1985. Teaching adults and children for more than 40 years. Member of the World Martial Arts Hall of Fame, Recipient of Gold Life Achievement Award. Inducted in 1999.
Menkyo Shihan, Kudan in Aikibudo-Bujutsu
Rokudan in Goshin Aiki-Jujutsu
Godan in Aikido (not affiliated with Aikikai
Yodan in Daito Ryu Aikibudo
Sandan in Minna Jiu-Jitsu,
Shodan in Shotokan Karate
Certified Full Instructor of LAMECO Valencia Escrima
Certified by International Combat Jujitsu Union ICMUA as an International Instructor and International Examiner
Official Teaching License Diplomas awarded by American Federation of JuJitsu (AFJ); by MAMWF; by Kamishin-Kai International and Samurai Jujutsu Association International.
Affiliations:
Member of Daitokai International Association, previously European Daito Ryu Aikibudo DaitoKai, led by Certa Shihan (Italy).
Member of Aikido Instructors Organization
Lifetime member of International Combat Aikido Union Association